The early history of this company, and its relationship to the Turkish bath at Hardy's Road, is not yet totally clear due to the paucity of available evidence. Even the correct name of the company is unknown, the word bath in its title being sometimes in the singular and other times in the plural.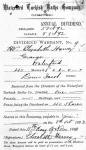 A thirtieth annual dividend was paid to shareholders in October 1891, so the company was founded at least as early as 1860. However, there may not have been any dividends paid for the first few years, so the setup date could be earlier than that.
The opening date of the Hardy's Road baths is just as obscure. The front page of an undated company prospectus notes that Turkish baths had already been built in Dublin, Bray, Killarney, and Limerick, as well as at Blarney and Cork. All of these were built by Dr Richard Barter, or in close co-operation with him. The Blarney bath was opened in 1856 and that in Cork in 1858. The others had all opened by the end of 1859. This would seem, therefore, to indicate a date of somewhere between 1859 and 1860 for the publication of the prospectus.
Furthermore, Robert Wollaston, in a lecture delivered in Cheltenham on 15 November 1859, and published the following year, states that Dr Barter's Turkish bath in Hardy's Road had already been built. So either the bath was open by the time the lecture was delivered at the end of 1859, or it was opened some time between the date of the lecture and the date of its publication in 1860.
Although the Hardy's Road baths were described as having been built by Dr Barter, most of the Turkish baths being built in Ireland at that time, apart from the one at Blarney, were designed for him by his namesake, Mr Richard Barter. Once completed, they were then operated by limited companies in which Dr Barter may or may not have had shares. The bath at Bray was an exception in that it was owned by Mr Dargan, rather than by a company.
From the beginning it is clear that Thomas Smith Harvey, a local stockbroker, played an important part in the running of the company. Its provisional secretary (subsequently elected to the position), he continued in post for many years, probably till his death.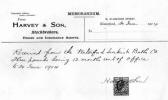 The company used his office in Merchant's Quay as its registered address, later moving to his new premises at 12 Gladstone Road. In 1904, over forty years after the company was set up, it was still paying Harvey & Son three pounds per year as rent for its office.
We don't know how many shares were initially held by each of the company's shareholders. We can, however, make an informed guess because, as Alastair Durie also found in relation to Scottish hydropathic companies, shares in the early Turkish bath companies changed hands infrequently, and were often retained by those who later inherited them.
A dividend payment slip for the year 1892 shows that Mrs Elizabeth Harvey (by then, presumably, Thomas Smith Harvey's widow) held 40 shares in the company and was paid a dividend of 6d per share. We can also deduce that the company's fortunes were beginning to decline by this time because two years earlier a similar slip for Nick Kenny (who held five shares) showed a dividend of 8d per share.
It may be that this decline in fortune continued, and in 1907 an attempt was made to add a cold water plunge pool to the facilities. A circular was sent to shareholders on 13 November by Edwin B Jacob (the chairman) and Thomas F H Jacob (the secretary) asking for approval to construct such a pool.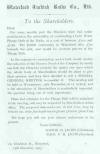 The letter noted that the local Jewish community had offered a sum of £20 towards its cost and that its members 'would be constant patrons of the Plunge Bath'. Though this was not stated in the letter, such a plunge bath would have served them as a mikveh, a ritual bath requiring running water. This is used by religious Jews on particular occasions, but especially by women after childbirth or menstruation. The Oriental and General Bath Company of Leeds was one of a number of companies and, later, local authorities, which made such provision as part of their Ladies' Turkish baths suite, the most recent probably being the Pier Approach Baths at Bournemouth, opened in 1937. It is not yet known whether the plunge pool was actually built.
The company seems to have owned the baths until some time between 1910 and 1912.
---
All unfootnoted information is taken from the front page of a prospectus (c.1860).
---
Objects include: the erection of a Turkish Bath in Waterford
Capital: £1,500 divided into 1,500 shares of £1
Provisional committee:
Spencer, Thomas (C Chairman)
Blake, John A (MP)
Malcolmson, William
Richardson, Joseph S
Peet, William
White, Thomas R Strangman, Edward
Hill, William S
Keogh, Samuel (of New Ross)
Rundle, Henry
Middleton, John
Henneberry, Thomas
Ambrose, Joseph
Palmer, James G
Murphy, John (of Dunmore)
Secretary: Harvey, Thomas Smith
Temporary Office: 55 Merchants' Quay 
Average number of shareholders: 27
This page last updated 05 November 2018