This heater, in a strong wooden box, with two frames to fit over the bottom of a bed, was made by James Allen of Marylebone Lane, London.
At the beginning of the twentieth century, it still sold for £2.5.0. in best quality tin, or £3.5.0. in strong copper.
The heater comprises a cylindrical air compartment, with an opening at the front. Underneath the air compartment is placed a separate three-wick methylated spirits lamp.
On top of the cylindrical air compartment is a tightly fitting domed top, to which has been attached a right-angled tube and two tapered extensions. These act as a transmission duct for the heated air.
This heater is in the collection of the Science Museum, London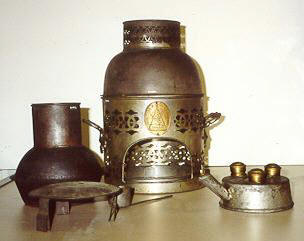 This is a similar heater but designed for use with natural or medicated vapour. Only the fittings and their arrangement are different. This image shows the tapered extensions removed. In their place is fitted the round container with cylindrical stem which is filled with water and then placed inside the heater, over the lamp and within the domed top. The clip-on flat cap (shown left foreground) can be substituted for the tapered extensions so that the heater can be used directly in a cabinet, or under a chair.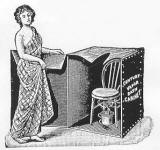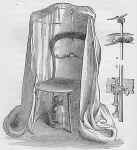 If the vapour is required elsewhere, the ducting attachments are re-connected in place of the clip-on flat cap.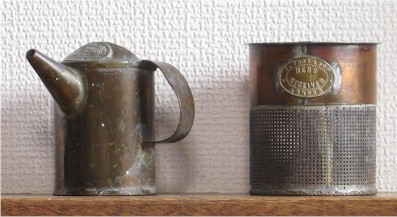 A Herb Receiver (on the right in the above image) can be inserted inside the neck of the round water container if a medicated vapour bath is required. Herbs, or other curative agents, are then placed in the receiver so that the vapour passes through them before leaving the heater.
Also in this image (on the left) is a Measure for Lamp which holds just the right amount of methylated spirits to fill the lamp within the heater.
This heater, with its accessories, is in the collection of the Victorian Turkish Bath Project.