When The Hammam was designed in 1860, Urquhart had wanted to alter the original hotel façade so that the whole building could be built according to the pattern of those he had seen in Constantinople. However, the Crown Estate landlords had insisted that the Jermyn Street exterior could not be altered because they wanted to ensure that the outside of the baths would still blend in with the adjacent buildings.
But when, in 1869, the company decided to rebuild the hotel, converting it into offices, lettable gentleman's chambers, and a couple of shops, the architect, Arthur Cates, designed the new facade so that it would closely conform to the Crown Estate's conditions.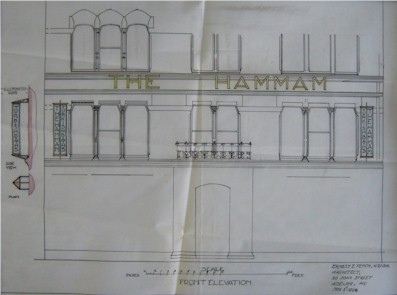 These conditions were maintained until the building was destroyed during the Blitz. Nevertheless, when the 1908 enlargement of the baths area was designed, the new architect, Ernest E Fetch, applied for permission to add three electric signs to the façade. Since no photograph of the building in its final years is thought to exist, it is not currently known whether permission was granted or not.
This page first published 01 January 2023