This image shows the important Bligh Street Turkish Baths in Sydney, Australia, at the time of their re-opening after refurbishment in 1884. It is not known how extensive the refurbishment was but it may have been considerable since the baths had opened twenty-three years earlier on 18 March 1861. The person originally responsible for building the baths, Dr John Le Gay Brereton, had retired in 1882 and died of Bright's Disease four years later. At the time of the refurbishment, the baths were either managed, or more probably owned, by a Mr C A Sherwin.
Brereton, an English doctor who had qualified at St Andrews University, had first-hand experience of running Turkish baths gained from the two persons most responsible for re-introducing them into the British Isles. Initially, he had seen them in operation at St Ann's, Dr Barter's Hydropathic Establishment in Blarney. Then, for a short while in 1858, he had acted as visiting physician at the Leeds Road Turkish Baths set up in Bradford by the Bradford foreign affairs committee 'under the advice and direction of Mr Urquhart'. 1
According to George Jacob Holyoake,2 Brereton had originally intended to open the first Turkish bath in London but he seems to have been persuaded in 1859 to emigrate to Australia instead. Almost immediately on his arrival he took, and converted into a Turkish bath, the premises known as Captain Cook's Hotel in Spring Street, Sydney.3 In doing so he not only opened the first Victorian Turkish bath in Australia, but did so a year before London had one.
According to Brereton's entry in the Australian dictionary of biography, these baths were 'so successful that larger and improved quarters were opened in Bligh Street on 14 March 1861'.
But aware that the Spring Street establishment was just a quick hotel conversion, he wanted to make sure that his purpose-built baths would be as correct as possible and the Turkish Bath Company was set up to ensure that there was adequate finance for the building. 4
However this resulted in his having less control over how the baths were built and what was to be included in them. On 10 July 1860, Brereton wrote to Urquhart. He enclosed a company prospectus, asked for some information about colours and nomenclature and, in effect, sought encouragement and support for his arguments to the board. 5
…I will enclose a prospectus by which you will see the progress our movement is making here. I do not attribute the clause which speaks of 'warm and cold water baths, shower, douche, sitz baths &c' to me; I opposed it but having a majority against me could not carry my point, but will take care that the Bath is honestly constructed, and that all water appliances shall be but parts of the one Bath & not capable of being constructed into separate wholes, also that there shall be no stagnant pools.

Will you inform me of the true order of colours in the Bath and also the epochs in its history which they indicate: also the Roman and Eastern names of each part of the Bath apparel—It is my endeavour, as far as I am able, to accompany the Bath with a true tho' necessarily imperfect history of the institution and of its modern restoration in which restorative [?] Movement I regard you as our one true leader.

I am, My Dear Sir,
Yours Truly,
J. Le Gay Brereton
The new baths were originally open for gentlemen from 8.00 am till 7.00 pm, with separate ladies' baths open from 5.00 pm till 8.00 pm. They were large—big enough for 100 bathers to use at the same time (presumably counting the facilities for ladies and gentlemen together).
Once it was open, the company was extremely proud of its Turkish baths. At the inaugural launch, the chairman, Mr T Holt, noted6 that,
Dr [Spencer] Wells … expressed the hope … that London, the metropolis of the greatest empire that ever existed, would ere long have a Turkish bath. But here, in the metropolis of the Southern hemisphere—for no one would deny that such was Sydney (laughter)—we had a Turkish bath; and it was assured by Dr Brereton who knew what was passing elsewhere that this was the largest, most complete and noblest edifice of the kind in the world. (cheers)
Apart from the refurbishment of the baths which occurred in 1884, very little else is known so far about this important establishment. It seems to have survived until the beginning of the 1920s and the building was demolished in 1923.
Comparing the images of the building in 1923 (below left) and in 1884 (below right) it seems that a further (and larger) wing was added to the left hand side of the baths, with a new parapet replacing the original one. However, it seems highly unlikely that the baths themselves were enlarged.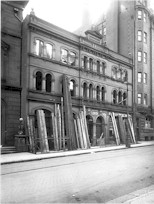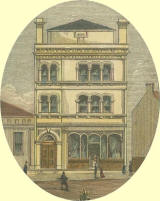 Further research is needed on this establishment.
The page was slightly reformatted on 01 January 2023