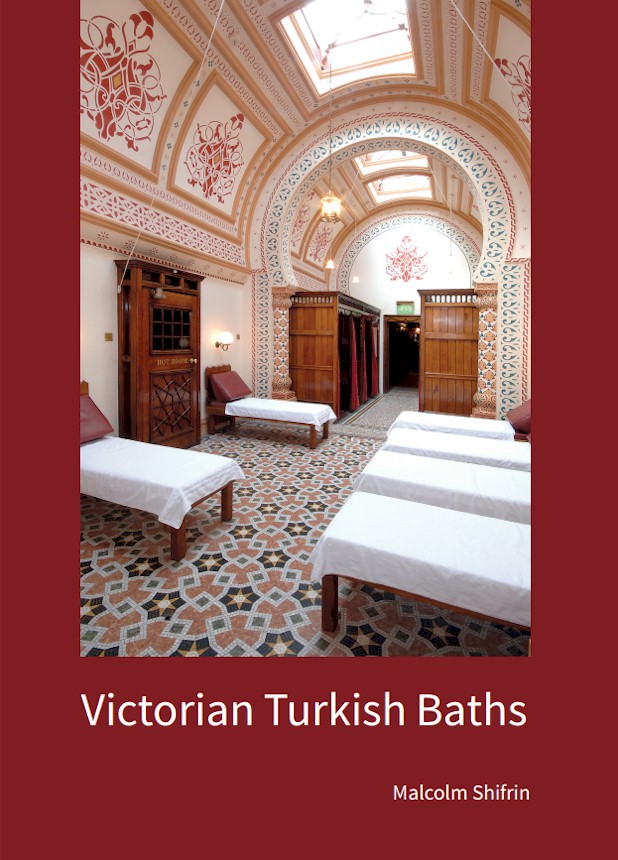 Published 2015 by Historic England in partnership with Liverpool University Press
Distributed in the US by Oxford University Press
Hardback 366 pages 276mm x 219mm ISBN: 978-1-84802-230-0

Also available online from a variety of booksellers at varying prices
which often change day by day.

Written in non-technical language, with over 480 illustrations, 5 maps, endnotes, a full bibliography, and an illustrated glossary, the book examines all aspects of the baths.

Victorian Turkish Baths, the result of 25 years' research, is the first book to bring to light the hidden history of a fascinating institution—the dry hot air baths that sprang up in their hundreds across Ireland, Britain and beyond, in the 19th century.

Malcolm Shifrin traces the bath's Irish-Roman antecedents, looking at how its origins were influenced by a combination of the Irish physician Richard Barter's hydropathic expertise, and the idiosyncratic diplomat David Urquhart's passion for the hammams of the Middle East.

The book reveals how working-class members of a network of political pressure groups built more than 30 of the first Turkish baths in England. It explores the architecture, technology and sociology of the Victorian Turkish bath, examining everything from business and advertising to sex—real and imagined. The book offers a wealth of wondrous detail—from the baths used to treat sick horses to those for first-class passengers on the Titanic.

Victorian Turkish Baths will appeal to those interested in Victorian social history, architecture, social attitudes to leisure, early public health campaigns, pressure groups, gendered spaces and much else besides. The book is complemented by the author's website The Victorian Turkish bath: its origin, development, & gradual decline where readers can find a treasure trove of further information.
See what reviewers and some of the first readers of the book have to say about it here.

About the Author

Fellow of the Royal Historical Society and retired librarian Malcolm Shifrin has always loved Turkish baths, saunas, spas and long sandy beaches.

An intriguing monogram, on a stained glass panel, set him on the detective trail, uncovering the hidden history of the Victorian Turkish bath. His research led him to create the widely respected website victorianturkishbath.org in 1998, the main reference point on the subject until this book.

Malcolm has written extensively on the fascinating history and sociology of this Victorian institution—and its impact on popular culture through the decades—producing magazine articles and academic papers as well as delivering lectures and talks.

Guardian Architecture and Design critic Oliver Wainwright says of his website, 'The development and evolution of the Victorian Turkish bath is brilliantly documented by Malcolm Shifrin', while Reuters describes him as 'a Turkish-bath maven'.
Malcolm has an MA in modern history from Royal Holloway University of London.

Contents
I. Background to the Victorian Turkish bath
1. Introduction: what is a Victorian Turkish bath?
2. Early communal hot-air baths
3. The British 'discovery' of the 'Turkish' bath
II. Early history of the Victorian Turkish bath
4. The birth of the Roman-Irish or Victorian Turkish bath
5. David Urquhart, his Foreign Affairs Committees, and their baths
6. Dr Richard Barter and the bath
7. The Victorian Turkish bath travels overseas
8. Building the Jermyn Street Hammam
9. The Jermyn Street Hammam, 1862-1941
III. Problems and attitudes
10. Early problems and controversies
11. 19th century attitudes to the Victorian Turkish bath
IV. Victorian Turkish baths for all
12. Ownership
13. Housing the baths
14. Commercial Turkish baths
15. Municipal Turkish baths
16. Turkish baths for the working classes
17. The Turkish bath in the workhouse
18. The Turkish bath in asylums
19. The Turkish bath in hospitals
20. The Turkish bath in hydros and hotels
21. The Turkish bath in 'members only' clubs
22. Turkish baths in private houses
23. The Turkish bath at sea
24. The portable Turkish bath
25. Turkish baths for animals
V. The world of the bather
26. Victorian women and the Turkish bath
27. Victorian Turkish baths: 'sites of sex and sociability'?
28. Inside the Victorian Turkish bath
29. Advertising the Victorian Turkish bath
VI. Victorian Turkish baths in the 21st century
30. Victorian Turkish baths today and tomorrow

---