The Victorian Turkish bath:
its origin, development, & gradual decline
* * * * * * *
Malcolm Shifrin's information exchange
Latest new material 18 October 2016
Latest revisions 18 October 2016
Following the completion of my book, most revisions to the website
(which is now 16 years old) are part of an accelerated programme
to update it by converting its 7,730 files into W3C Standards Compliance Mode.
However, a few pages are being revised when clearly required.
The addition of new material will be resumed when this process is completed.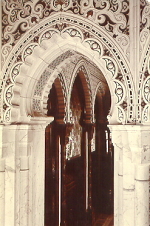 There is also a version without frames.
Internet Explorer 9 (or later) may require the use of the compatibility button.
The right of Malcolm Shifrin to be identified as the author of this work has been
asserted by him in accordance with the Copyright, Designs and Patents Act 1988
and is also covered by The Legal Deposit Libraries (Non-Print Works) Regulations 2013